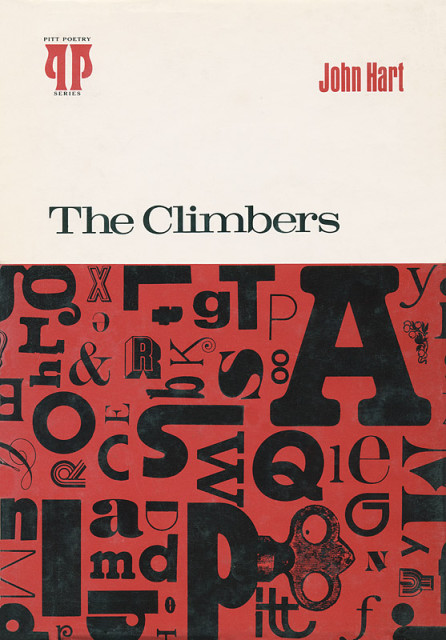 The Climbers (University of Pittsburgh Poetry Series, 1978).
Selected by editor Paul Zimmer for the prestigious Pitt Poetry Series, my first poetry volume reflects my apprenticeship with Lawrence Hart and a shared poetic quest with other members of the Activist Group of poets. A long-overdue sequel is in the works with the Bay Area's Sugartown Publishing.
Somewhat puzzlingly to its agnostic author, The Climbers was diagnosed as a work of religious poetry. The Library Journal remarked: "Religious poetry of the first intensity can still be written: Allen Tate, Geoffrey Hill, and now John Hart have done it." James Finn Cotter remarked in The Hudson Review, "Hart has the gifts to fashion profound religious verse."
EXCERPT
The Yale Review singled out the poem "Elaboration on a line from the Mandean Liturgies" as "an arresting new treatment of an old dilemma: whether Gnostic beliefs can be harmonized with the adept's inescapable love for . . .  the fallen earthly realm."
The Mandeans, a Gnostic sect in what is now Iraq, rejected love for this world—the "Tibil"—and thought its Creator incompetent at best. They worshiped another, an "alien" God, in charge of Heaven alone. But in one of their liturgies, a worshiper, summoned to that distant Heaven, protests: "Father, if I come with Thee, who will be guardian in this wide Tibil?" The poem takes off from this point.
ELABORATION ON A LINE FROM THE MANDAEAN LITURGIES
Often, Father, have I heard
the story of the alien Word.
And I have memorized the odd
adventure of the alien God.
And I have heard the scholars say
the earth will shrivel up one day
and that the base Creator would
have made it ugly, if he could
and that the sun behind the sky
were brighter to be human by.
But if that insect archon meant
to make a world thin and bent
He labored hard on his defeat:
No failure ever so complete
in all the levels' history
as that attempt to parody
the Ancient Light in something less:
The parody could only bless.
It may be that our native range
was not this planet, tall and strange
and of such beauty as appalls:
But here our our learned allegiance falls.
Father, indeed we ask your grace
to shine an image of your face
upon the awful countenance
of rock, and give it lenience
but on the mountain we remain.
I do not think we would regain
your easy splendor, if we could.
The col is bright where Adam stood
to start the errors of the climb
and we have uses yet for time
and beg of you the gentleness
to leave the climbers in distress.
REVIEWS
Another unusual first collection of poems is John Hart's The Climbers. The themes center on traditional religious subjects, but the imagery shows an original approach
.  .  . Hart has the gifts to fashion profound religious verse." —The Hudson Review
Hart conflates the phenomenon of poetry, or perhaps revelation, with the fiercely difficult sport of mountain-climbing, substituting Mount Rainier and its peers for Parnassus . . . . Hart is a strange poet, temperamentally and stylistically. The frequency of Christian allusion, the odd perceptions jolted into dream-like dislocations call to mind Robert Lowell, not his Life Studies, but the Lowell of the 1940s, surrealist and Catholic . . . . At the same time, Hart is a poet capable of drawing the threads of his attention together into luminous transactions with a visible and secular nature . . . .He shows more than amateur skill in handling traditional meter and rhyme, surely the most daring approach to poetic form nowadays. How many other new poets of the 1970s can write convincing rhymed tetrameter couplets or poems in terza rima? This is clearly an independent spirit, and to be encouraged. —The Yale Review
The tough-mindedness and technical excellence of these poems demand and deserve discriminating readers. Investigating the significant analogies in his title—climbing mountains, climbing onto crosses, climbing through purgatory—Hart is like the character in one poem who 'could not afford to say much that he did not mean' and who knows 'death is no spasm, but the faultless moon/conducting, like heat from the hand, the truth away.' He knows his Dantesque 'wood will kill you if it can.' His climbers, of course, follow another Climber who, 'armed with evil nails/swarmed up the dogwood.' Religious poetry of the first intensity can still be written: Allen Tate, Geoffrey Hill, and now John Hart have done it. —Library Journal
It is different, however, from the mainstream of contemporary poetry in that there are overtones of the 17th-Cebntury Metaphysical poets, Blake, and the English Romantics, all found in a new and grand setting. —Choice
PURCHASE
Signed copy $16 plus shipping