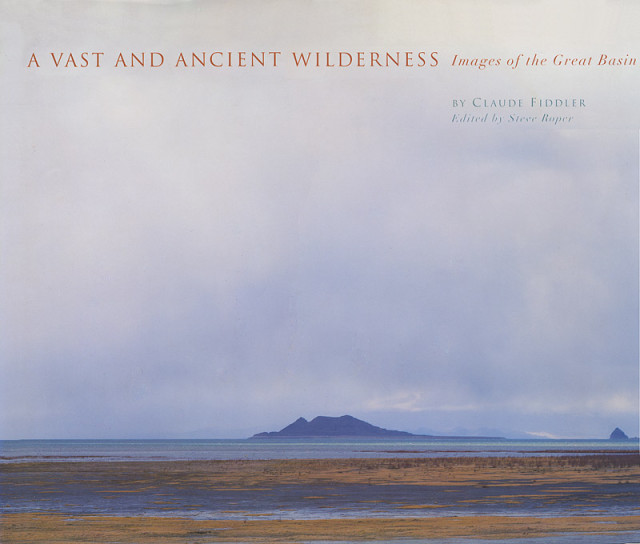 This pioneering volume by photographer
Claude Fiddler
and author Steve Roper brings an appreciative eye to a vast slice of the Intermountain West often dismissed as
desert
or
sagebrush country
. I contributed a foreword and some of the captions.
EXCERPT
People who love the Great Basin don't enjoy just the spots where it mimics the Sierra or the Rocky Mountains. They also like the endless, open pinyon-juniper woodlands, and the sage that after rainfall gives off an odor as stirring as the wind off a glacier. They love the desert peach and the desert poppy and the bitterbrush and the Joshua tree, and even the drab, ubiquitous rabbit-brush with its pale twisted leaves and yellow flowers. They know the lichen-splattered lava rims, the badlands with soils like drifts of powdered paint, the alkali pans with their dazzling, mathematical flatness. They've swum in the weird salt lakes with their heavy, amniotic water.
And maybe most of all they've come for the distance itself, the miles of nothing much. They like it that it's hours between gas pumps; they understand that it can be days to a mechanic should your car break down. They know, too, that anyone you meet on one of those incredibly bad back roads will stop and lend a hand.
Heading out into the basin from one of the towns or cities that huddle around its flanks is almost like leaving a shoreline for a wild sea. Great Basin admirers are open to it all: the strangeness, wideness, cleanness of it all; the . . .unsupportedness.
To love the Great Basin, you have to love it whole. In this book, Claude Fiddler and Steve Roper show how that's done.
PURCHASE
Signed copy $30 plus shipping