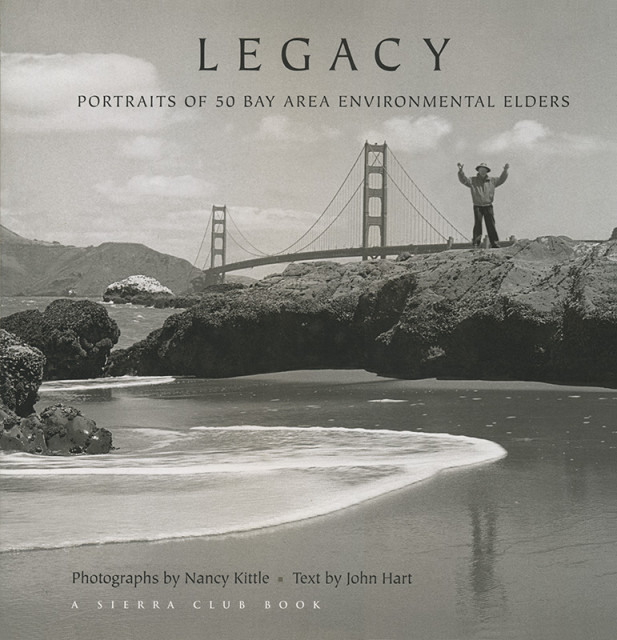 The environmental movement began on Earth Day, 1970. So we casually think—forgetting the many essential battles that were won, often against daunting odds, before "ecology" became a cause. In the San Francisco Bay Area, decades of dedicated, sometimes desperate work laid a firm foundation: halted the filling of San Francisco Bay, gave a first check to the expansion of freeways, secured key parks that would anchor larger greenbelts, and protected key wildlife species.
Legacy
captures the images and insights of fifty conservationists of the World War II generation and honors what they did for their home region and far beyond.
EXCERPT
Bay Area environmental activism has provided a model for the world, and not only because some local activists stepped into wider roles. The successful fight to block freeways through Golden Gate Park and along the San Francisco waterfront was a shot heard across the nation. The Save the Bay effort produced the first regulatory body of its kind on the planet. Napa and Marin Counties were pioneers in farmland preservation. The list goes on and on.
As journalist Harold Gilliam points out, Bay Area leaders have a habit of taking on seemingly hopeless campaigns—and winning. "Other places heard about what happened here and began to realize that victory was possible after all, in spite of the fact that the biggest interests were on the other side, the big money was on the other side. People power got it done." Or as Sue Bierman, a leader in the 1960s Freeway Revolt in San Francisco, puts it: "People just rise up and care."
What motivates that caring?
Most of our subjects can name two specific places that formed their green sensibility. The first is a landscape encountered in youth that gave them an inner picture of how things should be. For David Brower, for example, the model was the Berkeley Hills when they were nearly wild. For Lois Crozier-Hogle, it was Huntington Lake in the central Sierra Nevada. For Harold Gilliam, it was a waterfall in the Hollywood Hills. One spot on the California landscape is mentioned most often as a first or supplemental trigger: Yosemite Valley. To later comers the Valley suffers somewhat from its iconic status—and its perennial crowding. It seems a bit of a mess and a bit of a cliché. Not to the people in this book. Seeing it for the first time in the 1920s or 1940s, they often found tears in their eyes.
The second key imprint, typically, is the place that draws a person across the difficult threshold between attitude and action—between saying "Somebody ought to do something" and saying "Here I come." Sometimes the battleground is a place known from childhood, sometimes not. For Amy Meyer, that spot was East Fort Miley, a sort of vacant military lot in San Francisco. For Dwight Steele, it was Lake Tahoe. For Lennie Roberts, it was a stand of old-growth redwoods on the Navarro River. For Ledyard Stebbins, it was an arboretum in Berkeley.
REVIEWS
"The San Francisco Bay Area is forever in debt to the far-seeing activists profiled in this book. Hart's text is alive with descriptions of what has been saved and how it was managed. Kittle brings additional life to this tale with her extraordinary photographs." —Congressman Tom Lantos
PURCHASE
Signed copy $30 plus shipping